
October 7, 2016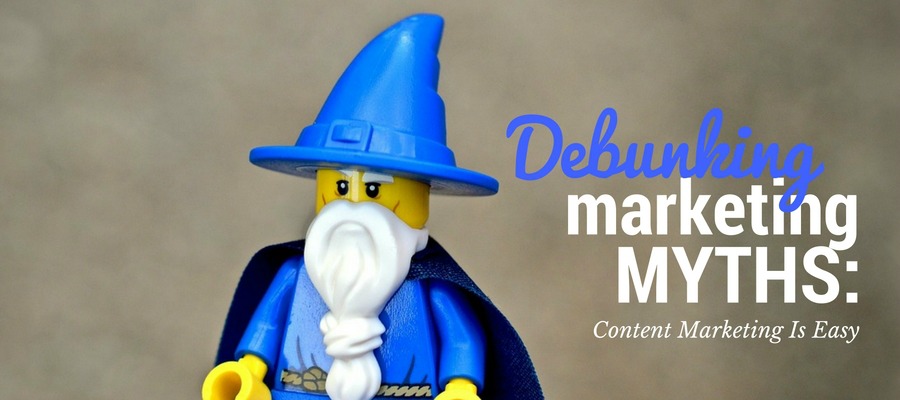 Tales of ghosts and goblins may give you a fright this Halloween, but very few things are scarier to a content marketer than to hear the words, "content marketing is easy." Nothing could be further from the truth. And this month, we'll be covering marketing myths, like this one, that jeopardizes your business' ability to draw in the right customers at the right time. So here are a few truths:
Content Marketing is more than blogging.
Maintaining a business blog is certainly a way to draw visitors to your website, establish thought leadership, and build a following. In fact, according to HubSpot, companies who blog enjoy 55% more website visitors and get 67% more leads per month than those who don't.
Content marketing, by definition, is creating and distributing the content your audience is looking for when they're looking for it, on the channel they expect to find it. The immediate goal is to inform, educate, and entertain – not to sale. Over time, however, you hope that each touch point moves your audience closer and closer to a revenue action.
This content can take a few forms, such as:
Blog Posts
eBooks and Infographics
e-Newsletters
Videos
Social Media Posts
Content Marketing takes time and discipline.
An obscene amount of content is created and shared daily. So no matter how good you think your last blog post was, chances are, your reach may be stifled by the sheer volume of what's already out there.
Creating content and properly distributing that content is as much art as it is a science. And a robust content marketing machine is demanding. It requires you to:
Create a content marketing plan with clear and measurable objectives
Create content that's useful and relevant
Publish content consistently
Develop key metrics to measure the success of your content strategy
Research and engage your audience
Content Marketing requires an investment.
There's at least three expenses you can expect with content marketing:
Hiring a professional content writer
Hiring a professional graphic designer
Developing a promotional budget
Unless you know you're a great writer and can commit to producing content on time on a regular basis –and maintain your day to day duties within your business – it's best to leave this to the experts.
Good writing takes time, from researching the topic to editing the final draft. And if you don't have the resources within your business to manage the editorial process, bringing in someone to do the heavy lifting just makes sense.
The same goes for graphic designers. Online audiences consume content visually first. So creating high impact blog and social media images will help you get your content seen and read. But again, unless you've got the time to do it without another part of your business suffering, leave it to the professionals. You'll need to factor in the cost of the graphic designer and the purchase of stock images.
Lastly, promoting your content. Contrary to popular belief, SEO isn't dead. Keywords still work, and timing is everything. But you still may need a little help getting your content in front of the right people, especially on social media networks like Facebook. Set aside a realistic budget to promote your content to target audiences, who are, over time, more likely to take a revenue action down the road.