
July 18, 2017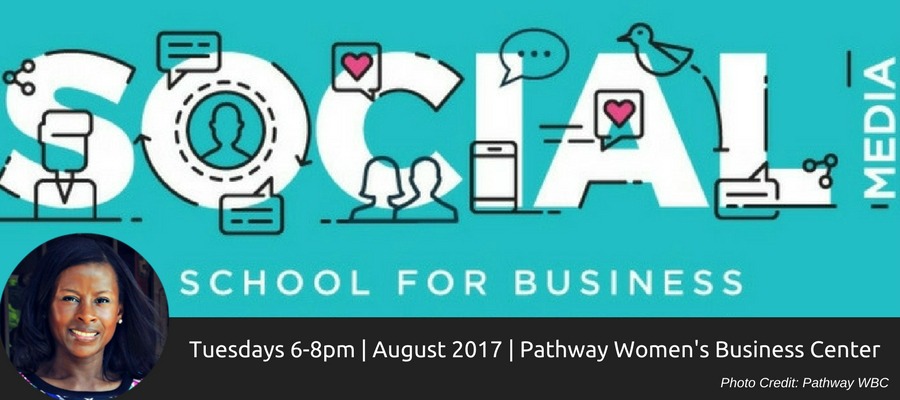 The average person will spend nearly two hours a day on social media which adds up to a little over 5 years spent over a lifetime. And these times are expected to increase as social media networks become smarter and work harder to deliver experiences that consumers want to be a part of.
For small business owners, this is good news. Social media offers an affordable option for promoting your business online to a more targeted audience using a channel they're on anyway. The trick is knowing which platforms work best for your business and developing a winning strategy.
You'll find this and more in Social Media School for Business, presented by Pathway Women's Business Center, and taught by Chief Marketing Strategist of Crayons & Marketers, Jacqueline Hayes. This 4-part series will help you:
determine which social media platforms make sense for your business
use social media to create a digital footprint that attracts your key demographic
move your posts and updates beyond impressions to engagement
generate positive ROI and measure overall effectiveness
Social Media School for Business
Starting in August, this fun and engaging series runs every Tuesday through August 22nd from 6-8pm.  Register for the following weekly sessions:
Session 1: Overview, August 1st [SOLD OUT, waiting list available]
During the overview, participants will be taught how to look at social media through a business lens and determine the benefits of using this tool to market their businesses. Participants will be given a workbook to jot down ideas and best practices that will aid in developing their social media strategy.
Session 2: The Platforms + What to Use, August 8th
Participants will learn about the pros and cons of the top 10-15 social media platforms commonly used for business social media marketing. The key audiences found and types of content published on each platform will also be discussed. Participants will be advised on how to manage multiple profiles to improve productivity. Participant workbooks will be used to assess their knowledge of the material reviewed.
Session 3: The Plan + The Impacts, August 15th
Utilizing the notes in their workbooks, participants will develop a one-page social media plan for their business. Key metrics to track will also be defined to aid in measuring the effectiveness of their social media marketing.
Session 4: Hands-On Lab, August 22nd
Concluding the series, participants will combine both classroom discussion and out of classroom practice to set up at least one social media account for their business. Or, participants can adjust a social media profile they already maintain. Participants should bring branded assets, such as company logo and headshots, to the session to use during set up or rebrands.
We can't wait to see you at Pathway Women's Business Center on August 1st!